A Tale of Two East London Pubs
You might know I've been doing some journalism work these last few months in London and I've got a bolt hole over in Leytonstone. So when I was forced to do a 2-week stint there, I was more than relieved when The Hubz came down from Brum to save me from self-destruction.
We've been to a few of the pubs in the town before. And we were also a bus ride away on the 257 (to Walthamstow) which stops in Leyton right outside the King William The Fourth pub which is also where Brodie's microbrewery is. I've lost count of how many times people have said to me 'Oh you gotta go to Brodie's' and – as I'm still recovering from a nasty chest infection – I wasn't at all in the mood to venture much further afield that day. But within an hour and one half pint later, we were back on the bus and sitting in The Red Lion to while away the afternoon there instead. Do you want to know why?
Leyton reminds me very much of Hounslow: the other side of London, seconds from Heathrow. I knew it well as I lived there for 18months while I was a presenter for Sky News nearby. So to me Leyton felt like Hounslow: warm, friendly, very ethnically mixed and so I didn't feel as if all and sundry were eyeing me up and clutching their purses or had their noses in the air (I get one of either reaction most of the time). So feeling like Hounslow was a good thing. And I was ready and raring to go, wanting to love this pub. But I was disappointed.
It looked inviting from the outside and The Hubz and I were more than excited. We tried tasters of these 3 beers and the Bethnal Green bitter which was also on.
But in the end we both plumped for this beer. The best for my taste. I was really surprised the beers were so bitter. For the 'hopheads' out there, these beers are all to die for. For me and my taste though, they pretty much all caught the back of my throat with the bitterness so I couldn't taste much else. I struggled to drink my half. Not saying at all that anyone else won't like them, but none of those beers on that day were to my taste. If you know me and this blog well enough, I do prefer a lot more sweetness in my beer. That said London Fields Pale Ale was the best of them all! And I'm not at all ruling out a repeat visit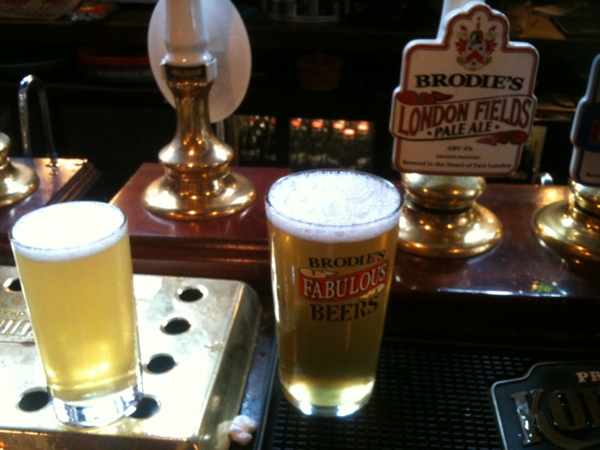 I'm not the sporty type and YES, it's Euro 2012, so the pub was England flagtastic: with the TV on, and Magic Radio booming through the speakers. Plus it was full of groups of lads all over the pub, some playing darts, others chilling.
Counting the barmaid, an older lady sipping a half in their fabulous back room alone and me: that made up 3 women in the entire pub. I did feel a little uncomfortable. But hey, it was a sunny Saturday afternoon and that might have been why there were a ruckload of chicks in there. There could be a myriad of reasons for it that.
But before we left I went to have a nosey out back. Arif was washing out the barrels and very kindly took the time to chat to me for a few mins while he was busy working. Apparently I'd just missed James – owner of Brodie's – cos the day's brewing was done. Arif told me how much he loved working there: he's a very multi-talented asset because he was also finishing up, before a quick break and then onto a shift serving behind the bar!!
So we hop on the 257 back to Leytonstone and get off at the KFC (very handy!) and head to The Red Lion. Immediately we're in a parallel universe. Not  just because we know it already, but also because it couldn't be more different than King William the Fourth. I even made notes on my phone about the things I loved so much about it as we sat there: everything from the mind-blowing selection of ales and keg beer (not forgetting the heavily stocked fridge packed with national and international beers!) to the high ceilings and chandeliers….
….the guy with his broken leg (!)….
The Hubz and I sat snuggled up arm in arm listening to the strains of Otis Redding (followed by The Beatles, Peggy Lee, Motown and more dreamy music) seeping softly through the speakers. So what else is amazing about The Red Lion: table service when it came to food (cheeky and deliciously unpretentious food at that, we had Rabbit there in the Winter!! ), superbly friendly and smiley staff (more than worthy of a tip)…..
…. a 10% discount on cask ales for CAMRA members, parents with their kids who respected the environment – they kept their kids from being shouty or the kids were just naturally well-behaved and didn't want to bother shouting (!); a mix of families  black and white with newborn babies and toddlers (yes, an ethnic mix of people in a pub is important to me – go figure!)…. chilling with a lemonade, trying to beat Mum 'n' Dad at a board game….spot the couple musing over their wine in the back too?
…that wonderful shabby chic decor, the day's papers to read if you're drinking alone, a total acceptance of all life: I spotted gay and lesbian drinkers chilling and holding hands, no-one hassling anyone else….. All live and let live. People drinking together and you wondering how on earth they all know each other and what's drawn them altogether to enjoy a drink there. It felt like – that very afternoon – that it was the best place to drink in the world anywhere. And crazier that I felt 'at home', when London never has and never will be a place I call home. How can a pub provoke such feelings? Must be the beer, you say! Maybe so, but it was great.
I just wish, when it's time for me to leave London – I could pick it up the pub and all the emotions I feel for it, and take it all back with me to Birmingham. Or someone can make me a pub just like it there!
PS We didn't quite escape from the football 😉
HAPPY BIRTHDAY, RED LION!!! Sorry I couldn't be there for your wonderful weekend but I was watching your fun-filled tweets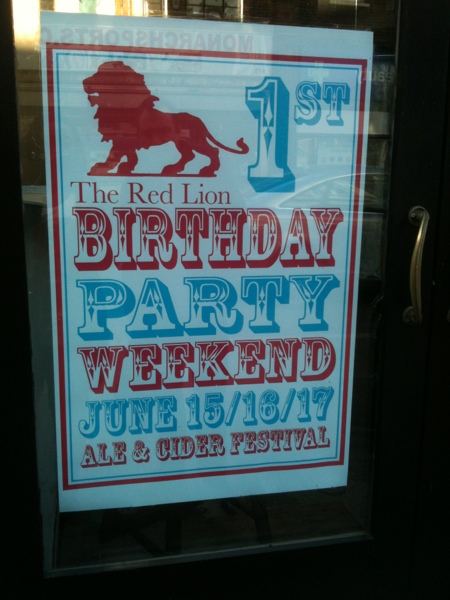 And cheers to a forthcoming second visit to the King William the Fourth!