Any weekend beer plans??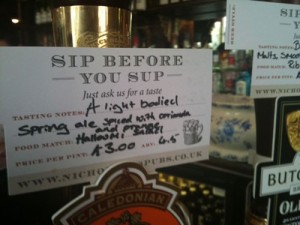 Sunshine and beer go hand-in-hand extraordinarily well in my book.  I've been trying to take advantage of this amazing hot, sunny weather in between a little bout of illness and working my socks off! I'm not one for knocking them back until I keel over: in this weather, that'd be just plain foolhardy! But sipping a cool half an ale (or two) in the sunshine while relaxing with friends is my idea of heaven. So it got me thinking… what beer plans have you've got for the myriad of Bank Holidays we've got lined up these next few weekends??
Yesterday The Main Man and I went on a jaunt into Birmingham city centre and headed down to the opening of The Shakespeare on Summer Row, which has now become a Nicholson's Pub. Part of the Birmingham M&B pub chain the Nicholson's pub offering is pretty cool: a more than decent choice of cask ales, delicious food, served in a pub that is steeped in history. I LOVE what they do with the pump clips to help you make a choice!!
Languishing in that sunny beer garden last night reminded me of the time a couple of weekends back that The Main Man and I had to retreat to The Bell for a Home Brew Summit to figure out how we were going to resolve the issues with our leaking boiler on what was meant to be our ESB Brew Day!
And the sun always reminds me of those good times on me jolly 'olifers!
So what fabulous beers are planning on enjoying this weekend and why??