British Guild of Beer Writers Annual Dinner 2013
Last night in London was pretty marvellous. Not least because I was asked to help collect the Beer and Pub Association's prize for  CORPORATE COMMUNICATIONS at the Annual Beer Writers shindig. As an avid beer blogger and all-round beer evangelist I've been a member of the British Guild of Beer Writers for over 3 years now. I guess you'd call me one of the 'new breed': a female writer, a black writer and someone who writes online and appears on TV to champion beer. I don't write for national newspapers or write beer books. Others do that way better than me. It's not my thang! My main career is a Broadcast Journalist and Television Newsreader & Producer (though I've recently 'changed lanes' and am presenting on Britain's Biggest Shopping Channel, QVC)
I'm more a talker and a tapper than a 'scribe', I'd say. The Guild's aims are to promote beer as far and as wide as possible. To that end, this time last year I was asked by the BBPA to present a video which formed part of the BBPA's Annual Budget submission to the Chancellor, George Osborne. It urged him to stop the beer duty escalator – a tax which hurts the industry and reduces its ability to offer more jobs across the industry (did you know 46% of all jobs in the beer and pub industry are taken by 16-24yr olds). Osborne DID axe the tax in the March budget – just weeks after the video was released. We'd like to say that the video pushed him to make the decision – but it was a massive lobbying effort on all sides and other beer and pub supporting organisations and individuals too! Osborne even turned up at a pub near Westminster where the BBPA, SIBA and CAMRA together were celebrating the good news. At any rate, the BBPA won an award (sponsored by Thwaites Brewery) and I got to go up and collect the award with the wonderful David Wilson, the Director of Policy Affairs.
I blogged and shot a Behind The Scenes video about filming it all earlier this year with the terrific team from BMS in Nottingham, who made the final video all come to life. I want to thank all of them and of course, David Wilson for hiring me to present the video. Hard work filming up and down the country, drinking beer in pubs and meeting some awesome people! Here's the video itself
In all the fun and beer last night we took some fun pics of us having a blast so here are a few for you to look at and laugh at.
David Wilson looking like the king of the jungle in this pimped out animal print chair with me, Natalie and Andrew from BMS!
The winner of the BREWER OF THE YEAR (as voted by Guild members) was Derek Prentice from Chiswick brewery, Fuller's. He threw some Vintage Ale into my tankard – I couldn't refuse. So apt that Fuller's is based in Chiswick (the area which has become my new second home, because the QVC television studios are nearby). Their beers are stunning. Feel free to search my blog for which Fuller's I've recommended in the past.
But one of the grooviest things about the night is the beer and food matching dinner we get served.  All the beer served in wine glasses. If that's new to you then it's time you delved more into beer!!! (I've hosted lots of beer and food dinner parties in the past – search the blog for pics and news of them!)
Here's a look at the menu and then the beers with which each course was served.
We started with Camden Hells and the Salmon starter (I think the bottles were whisked away before I could get a pic!) I think the Hells was light enough and did the job of cleansing the palate after each salmon mouthful.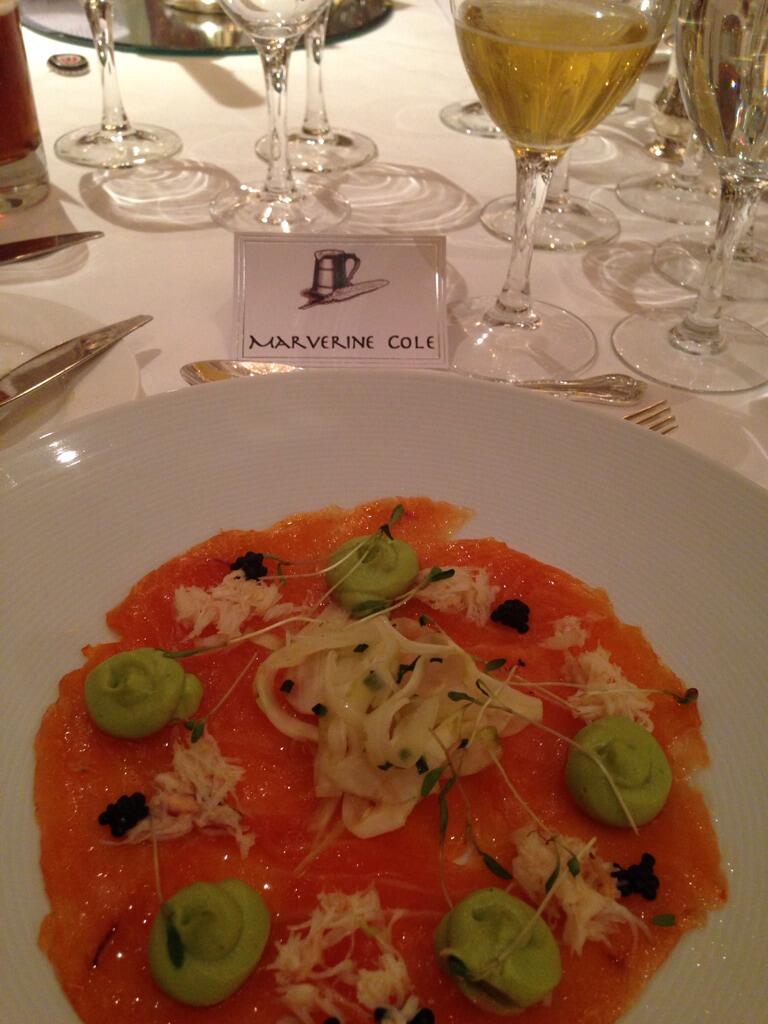 This utterly delicious game dish of pheasant and venison, pictured below, sat well with the 7% Modus Operandi beer from Wild Beer Co – they're from Somerset and specialise in sour beers.
I was afraid it might be too vinous and sour but the beer was very well balanced, not overpoweringly sour, it had just a slight zinginess to it. As a beer that had been aged in an oak barrel for 90 days (and one which might have held wine or bourbon in it, therefore the beer soaks up some of those flavours as it matures), M/O was robust enough to stand up to the stalwart nature of the game. Almost like a spanish Tempranillo Red! The best beer and food match of the night, I felt. Well done Mitchel Adams and Adrian Tierney-Jones for deciding upon on the combinations.
So then dessert was the maddest plate of silky smooth chocolate with a sea of salted caramel in the  middle with Guinness ice-cream, utterly delish but for me the 11.2% Quad beer by London brewery Partizan didn't work as well. I didn't like the sour nature of the beer with the richness of the smooth creamy cloying chocolate, but it didn't cleanse my mouth well for the next mouthful. A good beer and a great dessert. But IMHO just not to have together.
Here are all the winners at the swanky Jumeirah Carlton Tower Hotel in Knightsbridge. Winner of the overall BEER WRITER OF THE YEAR 2013 (Will Hawkes) is standing next to me with his Silver and GOLD tankard! Massive congratulations to him!!
It was another fabulous night, Austen and I had a blast thanks to Badger Ales (Hall & Woodhouse) who invited us to their table.  Congrats to everyone involved in making the awards happen. What a superb job. Here's a list of all the winners – big round of applause to you all.
Brewer of the Year  – Derek Prentice, Fuller Smith & Turner
Greene King IPA Travel Bursary
Winner: Martyn Cornell / Silver Award: Adrian Tierney-Jones
Shepherd Neame 1698 Award for Beer and Food Writing
Winner: Mark Dredge
Thwaites Award for Corporate Communications
Winner: British Beer & Pub Association
Brains SA Gold Award for Best Use of Online Media
Winner: Richard Taylor / Silver Award: Adrian Tierney-Jones
Adnams Award for Best Writing in Regional Media
Winner: Gavin Aitchison / Silver Award: Leigh Linley
Fuller's ESB Award for Writing for the Beer and Pub Trade
Winner: Roger Protz / Silver Award: Jeff Evans
Molson Coors Award for Writing in National Media
Winner: Will Hawkes / Silver Award: Sophie Atherton
The Michael Jackson Gold Award – Beer Writer of the Year 2013: Will Hawkes
Cheers for everyone also who couldn't make it who tweeted and Facebooked me hellos and comments all last night and today!