Brooklyn Brewery & East London Street Food
You hear me banging on about it all the time. Beer and food. Beer and food. Beer and food. And even though you might have seen me on the telly convincing celebrity chefs and TV presenters alike about it, you might not still believe it.
Well if you're in East London next Tuesday night (12 March) and you've got an hour to kill, you should go and try this fab sounding event out. where you can try the whole thing out for yourself. Bearing in mind it's in a car park 😉 So why should you go??
A) It features Garrett Oliver – one of America's coolest beer dudes, the brewmaster of New York based Brooklyn Brewery. It's one of the more established in the US, founded in 1988.  They make a pretty mean Lager and a crazy delicious Black Chocolate Stout and their beers are sold in various bars and clubs, and most well-stocked beer bars
B)  You can try one from a selection of his beers with any of the eight different delights from various street food stalls (see below). You can choose any combo for only 6 quid (advance tickets) All with some fab choons being spun too. It all sounds insane. So there's only one thing for you to do, just get yourself down there because it sounds like a total no brainer!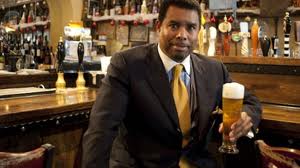 Garret Oliver was switched onto beer when he came to England in the 1980s after Uni and fell in love with British ale.  He calls England his second home. He's a beer and food matching expert of the highest order. Check out this video of him and why he loves beer so much