Canned beer – US style
I was taken aback: in a good way! This is an on-the-fly post to tell you about 3 delish canned beers I had tonight at the Guild of Beer Writers annual gathering in London on the eve of the awesome Christmas-tastic like beer festival that is the CAMRA Great British Beer Festival.
So someone crammed us in a room at the Porterhouse in Covent Garden and forced us to drink some extraordinary beers, produced in the US and sold in a can! And one that we were told WEREN'T going to be available at the GBBF the next day! Talk about exclusive!
And after what I drank my verdict is: Blimey, the Americans are flipping geniuses.
So I had a deliciously refreshing, fresh citrus smelling, caramelly- sweet and stupidly drinkable Ashland Amber (5.6%) by Caldera Brewing Co in Oregon. Great way to start the night, if a little heady at over the sessionable strength!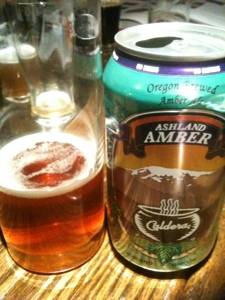 So then there was a big fruity, smooth, tropical tasting Maui's Big Swell IPA (6.8%) – I think this was a fave cos everywhere I turned people were downing it. Either that or someone had over ordered on the number of cans of this one! Somehow I reckon it was the fact that it hit the spot for me on the flavour point and the strength. I could imagine that washing down a nice Duck with Orange  & Beetroot Gelee or something like that! Corrrrrrrr!
I also didn't get a picture of it myself so here's a web pic of Maui's Coconut Porter – again another BB Boat Floater: huge coconut aroma which translated perfectly into the flavour with nice chocolatey tones all over it. Like a dark chocolate Bounty bar. Do they make those anymore? The one with the red text on the packet – not the blue? Answers on a postcard, please…
So basically I was pretty stoked, but sadly yakkered too much to get anywhere NEAR the remaining 13 other beers on offer in cans that night. Time for a beer hunt, I think!