European Beer Bloggers Conference – Edinburgh #EBBC13
This time last week I was heading home from an exhaustingly hot Edinburgh and what was Day 1 of an amazing #EBBC13 conference (organised by Zephyr Adventures) Yes, just like other writers, beer bloggers get together to discuss beer-related topics, discuss writing techniques, get tips on how to improve the quality of our writing, as well as discover new breweries, and re-acquaint themselves with old faves! It was fabulous to see some old friends and make some new ones. Plus a chance to catch up with awesome peeps like Chris & Craig from Williams, Chris from Fyne Ales, Bruno from Italian craft brewery, Toccalmatto, John from Shepherd Neame and Anna & Rachel from Badger Ales. We were also in the esteemed company of world renowed beer guru, Garrett Oliver, who was our keynote speaker. He hung out with us all afternoon and well into the evening. So read more to get a run down of what happened and my link to all the fab pictures from the event.
When I walked in their was a trade session – various brewers exhibiting their wares, offering samples and talking to us about what they'd brought along. I scooted around as many as I could be the intention failed miserably. I didn't cover as many as I could but I thought I picked up some of the best beers which were new to me. They're listed here, so go try and find them online (diret via the brewery) or at your nearest craft beer dealer. See the Facebook pictures for more details on all the beers I enjoyed including FYNE ALES, TOCCALMATTO and WILLIAMS BROTHERS.
So Brooklyn Brewery Brewmaster extraordinaire kicked things off for us at the Ghillie Dhu conference centre (just off Princes Street). Some of the most important points he made were – whereever you are in a country, try the local beer: many breweries don't distribute very far away from where they brew, some stick to just the region in which they produce for financial reasons, but they've created something for your pleasure so it's a travesty NOT to drink locally produced beer. It was all connected to his mantra (and the wording on his T-shirt) of DEFEND BEER. He waxed lyrical about his beer education when studying and work here in the UK back in the 80s. He was a convert to real ale from the minute a glass touched his lips and the rest is history.
We then had two talks about Scottish beer – one about the country's brewing heritage, followed up by Harviestoun Brewery (who make one of my fave craft lagers, Schiehallion). Their rep discussed how the aged of beer in oak-barrels which used to hold whisky was an incredible market they'd dived head first into. Lots of interest and sales from the US and Brazil driving their long-term strategy to continue barrel-ageing various different beers. Needless to say these beers are dark, chewy, strong and above all delicious. They said the actual whisky casks are now even harded to come by because of a boom in whisky production, but they've signed a 10 year deal with Highland Park to get first dibs on their casks to there'll be plenty more beers around like the ones we were given samples of that afternoon.
Then in the evening we were invited to the very luxurious Edinburgh Council Chambers for a dinner hosted by the fab gusy and gals from Pilsner Urquell and the effervescent Vaclav Berka, Brewmaster, who'd come over from Pilsen to be with us. You might know I know PU well (having been flown out to the brewery by them and asked to host their International Master Bartender awards. They are sponsoring the beer at The Open Golf tournament again this July) So Vaclav tapped 3 barrels of the unfiltered, unpasteurised PU beer – which is the beer in its purest, and for me, the tastiest form. Utterly delicious and sweet.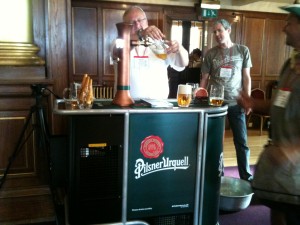 After that we were whisked off by coach up to Stewart Brewing's newly expanded brewing facility. A fabulous place with lots of beer on offer and a chance for us to catch up with Steve and Jo, the husband and wife team behind the brewery, who were thrilled to invite us over for a first look at the new site. We tried lots of newer beers of theirs. I also truly adore these ones, which I've had in the magnificent Bow Bar in Edinburgh's Grassmarket.
Thereafter, the lovely Jules and I snuck off to Bow Bar for a final few jars. (I must admit I visited for a cheeky pre-conference lunch & beer there earlier in the day!) And after closing, my pal Susanna from Drink Britain then joined me and I cajoled her to take me for another drink. We ended up in Jack's Place, the bar above the Hoppo Backpackers hostel on Cockburn Street. Very cool places, with craft beer coming out of its ears, as well as a whole heap of whiskies and some fabulous staff. Thanks Sus!
My beer of the conference?? WILLIAMS BROTHERS IMPALE IPA, with their BIRDS AND BEES coming a veerrry close second!
PS This post was NOT sponsored by anyone but I have to shout out to all the sponsors of the conference and also Motel One where I stayed – superb, value accommodation with cool classy modern decor. A real treat to be there!
I'm going to plug in to some links to other bloggers who were there on Day 2 and who have written about their time at the conference too!