FemAle 2012 – Beer & Food Matching Dinner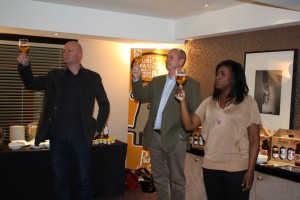 To all of you came along last night – THANKS FOR MAKING IT AWESOME!!!! Cheers for all the lovely comments & tweets of appreciation and thanks through the night, afterwards and today!
I hosted a second, highly successful FemAle night at Birmingham's Malmaison hotel last night. The fabulous Purity Brewing Co supplied the beers – 3 of their own brews (produced at their brewery near Stratford-upon-Avon) and 2 beers that they import as well as one extra-special addition! The hotel's head chef Brian Neath devised the menu, and it was Sous Chef, Mark Walsh and his team on the night who delivered us some wonderful creations. A fabulous job done by Jill Martin from Purity, and Zara Goodwin from Malmaison too – what a great team, huh?!?
So as we all sipped on champagne glasses of Veltins Pilsner as our apertif, I introduced the whole evening and kept proceedings under orders, delighting our gorgeous guests with some fascinating facts about beer. Paul Halsey (Purity's MD) told us all about their beers and how exciting craft beer is right now, and Paul Corbett from Charles Faram in Worcestershire talked about the hops and malt in each of our beers. After each course I got everyone talking about how they felt about the beer and how the food worked with each one. Then we gave away prizes of Purity gift bags and a bottle of Chocolate Cyn (those lucky gals!). It was amazing and good fun!
I tried out the IPad on the photo front again – the mood lighting didn't do wonders for the video but I'll see how some of my snippets turned out.
Here are pics of the food and beers. Yes, half empty glass all the time – because I was always caught up in the moment and enjoying what I was eating and drinking and then realised I needed to snap for posterity.
COURSE ONE
Grilled vegetable ceviche bruschetta with Saint-Maur goats cheese crumble with Veltins Pilsner (4.8%) (Purity imports Veltins – you can buy it in supermarkets and on draught in some pubs too. For Brummie-based peeps I'm sure The Bartons Arms in Aston does it.)
No pics cos it went down so fast, I'm afraid! But there was unanimous agreement on the stunning match between these two: the beer is deliciously clean and crisp, not too bitter for novice beer drinkers, an 'in on the ground floor' beer, as I like to call them, with a delicate sweetness. The crunchy bruschetta and vegetable combination (tomatoes and peppers roasted in olive oil) plus the goats cheese were lip-lickingly cloying: the beer cut through the fat exquisitely and then enhanced and gentle sweetness of the beer. Awesome way to start the night!
COURSE TWO
Smoked salmon with guacamole & herby creme fraiche with Pure Gold (4.3%) Served in wine glasses. Pure Gold is another delicious 'in on the ground floor' beer brewed by Purity. Made with Cara Gold malts, plus Hereford and Styrian Goldings – light, refreshing, citrussy, summer beer, dry and bitter finish but not overpoweringly bitter. Lots of stickiness in the mouth here with the creme fraiche and the guac but not as cloying as the oil from the 1st dish. The Pure Gold cut through it quite nicely, worked well – both complimenting each other.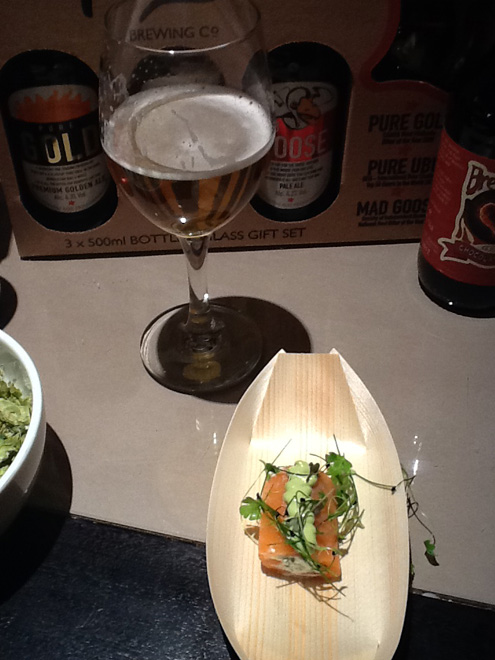 COURSE THREE
UBU braised blade of beef, smoked pomme puree with Pure UBU (4.5%) fabulous amber beer, more obviously fruity in aroma than the gold, spicy, deep dark fruit flavour, very drinkable. Packed with 100% English Maris Otter Malt (a very prestigious malt that slightly more expensive than some of the other similar malts out there, has a lot of kudos among many British microbrewers and so many like to use it because of its distinguished heritage), plus the beer's got the aromatic floral, almost lychee-smelling Cascade hops in that we smelt and the Hallertau hops giving the bitterness. Good match with the beef, I thought.
COURSE FOUR
A real gear change here! Roasted pork tenderloin stuffed with apricot and sage matched with Maisel's Weisse (5.2%) It's a Bavarian wheat beer made with mountain spring water and Hallertau bittering hops. It was the cloudy one that had a banana and clove kick when you smelt it. I really love this beer because the coriander doesn't seem to overpower the beer (which I've found in some wheat beers), a smooth spiciness too. Everyone seem to enjoy the smoothness, and here the sweetness of the apricot in the filling matched the sweetness of the beer, enhancing the banana flavours.
COURSE FIVE
It was Dessert Time with Dark chocolate delice & Bacchus glazed cherry served up with Bacchus Kriek 5.8% the cherry beer from the Van Honsebrouck family brewery in West Flanders, Belgium. Even my devilishly sweet tooth found this beer way too sweet to be sipping for an stretch of time, without something to eat alongside it. This beer demands to be accompanied. It finishes with almonds and that sourness characteristic of  lambic beers because of the brewing process we talked about where these beers are fermented by wild yeasts.
So you take a fork full of the thick dark chocolate slice and let the choc melt and soak onto your tongue. Head back for a sip of the beer and the chocolate for me put a cap on that heightened sweetness of the beer. Brought it down to an acceptable drinkable level which then prompting you to go back to the choc slice and back to the beer at a ridiculous speed. This one vyed for the top spot in terms of beer and food match with Course One. Spot on! (Not the neatest of pics cos I grabbed mine so fast off the tray it jumped onto my small plate! lol! Didn't stay on the plate long either! lol)
COURSE SIX
It was going to be MontgomeryCheddar with Sierra Nevada Stout  5.8%. But before the night started Sous Chef Mark Walsh discussed with Paul Halsey and I a cheese he'd had delivered this morning – less aged than the Montgomery, at 8 months –  and less spicy. So the caramel and black malts give this fab Californian Stout its deep, dark colour and very roasted flavour. It sat amazingly well with the cheese, the flavours didn't fight each other at all. Well matched.
I think the overall winners were COURSES ONE AND FIVE.  Cheers to everyone – we were all stuffed with food and beer by the end of it. I know everyone had a blast as did us all. COME BACK NEXT YEAR WHEN WE DO ANOTHER ONE??
Here's some more fab pics of the night. Links to more on Facebook will follow.