George and The Spitfire!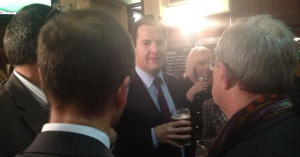 Like it or not, he appeared. As if by magic. Like the shop-keeper.  I was minding my own business, chewing the fat with my beer pal, Kimberley , in a tight corner of a compact & bijoux downstairs room of The Westminster Arms near Parliament the other night. We'd not long arrived. We were being regaled with tales of Westminster life, by two rather lively MPs at a drinks party held by the British Beer and Pub Association. We, and around 50 others, were there to rejoice in the news that the beer duty escalator had been scrapped and there'd been a penny reduction on a pint. Then The Architect of the mirth in which we were indulging appeared. Kimberley poked me in the ribs. I turned around and almost splurted out my mouthful of beer, as I did a double-take. Classy.com. The strident figure in the dark suit was holding a pint of Shepheard Neame's Spitfire Ale. Camera flashes ignited the room. It was a moment in history: the first ever snaps of The Chancellor, George Osborne actually holding a pint of beer. 
There was a lot of vitriol about him making this decision (both on Budget Day) and when I tweeted pictures on Facebook and Twitter on Monday night. And a lot of hate and disdain flew around the web for hours on end as people couldn't quite bring themselves to give him credit for bothering to turn up and meet the people who'd be battering down the door of Number 11 for so long to deliver the message about how the beer tax was squeezing the industry.
Many people commented back at me, instantly assuming and mistakenly believing that my enthusiasm for his decision on Budget Day and for him putting in a brief appearance that night in the pub, automatically equalled eternal love for The Chancellor. That my enthusiam meant I wanted to rip his clothes off and do unspeakable things to George. That I agree with all of his policies. Well, I don't. But what I did like is what he did on Budget Day for the British beer and pub industry. So all I want to say to all the moaners is 'Osborne did a good thing for the long-term survival of the industry, so stop being such a curmudgeon and get over it'.  And if you can't, well let's agree to disagree and move on with our common goal of defending beer.
Audioboo reactions from guests on the night will follow.