Great British Beer Festival 2012 [VIDEOS]
An army marches on its stomach and I was a beer soldier going into battle yesterday, so what better way than to tool up with a massive Bacon and Egg sarnie and a huge cup of coffee courtesy of Frank's Sandwich SHop – just across the road from the front doors of the Great British Beer Festival (GBBF) venue of Kensington Olympia.
There were crowds waiting outside at 1130am (!) so I waited patiently. I saw loads of old friends, made lots of new ones and recorded some videos too, the highlights of which are below. And, of course, I drank beer. So click on MORE to see the full SP. And make sure you get to this wonderful festival celebrating the brilliance of British (and others) beers and much much more.  800 different real ales, ciders and foreign beers and CAMRA, who've organised it all, is expecting around 50,000 people across the week with the last day being THIS SATURDAY! Be there, or be ever so slightly unhinged!
So after my delicious brekky at Franks – run by third generation of family of original owners – I scooted off the to Press Room of the fest.
I love Olympia – smaller and more intimate venue than Earls Court with a stunning balcony where you can a bird's eye view of the entire hall! Wicked!
So I drank all of these incredibly stunning beers not enough time to drink and talk and film. More about the camaraderie over a beer with people than seeing how many you can neck in a short space of time for me. And that to me is what beer is all about anyway.
– Greene King 5x 
– Fuller's Brewers Reserve No 4 (watch the video)
– Coniston No9 Barleywine (winner of the Champion Beer of Britain Award – like the best beer ever of the entire year in the UK) –
– Lagunitas Brew Co – Undercover Investigation Shut Down Ale (I was lucky enough to chatting to Fraser Murray, the amazing Scottish lad who followed his love of a good woman and beer to the US to work for this amazing California-based brewery!)
– Brains Barry Island IPA (watch the video)
– Bellhaven Black Stout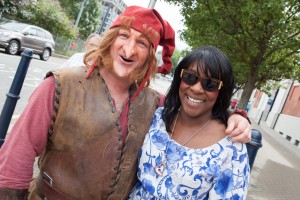 Cheers to all the fabulous people I met up with one the day – you all know who you are. Too many to mention! BRAVO TO CAMRA FOR PUTTING ON ANOTHER GREAT SHOW THIS YEAR!