Happiness is a beer by Nogne O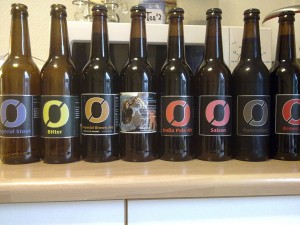 Who ever says beer isn't sophisticated & elegant is talking complete and utter CRAP. Why? Well when you're stepping through the doors of the ridiculously sumptuous Kensington residence of the Norwegian Ambassador, Mr Kim Traavik, for the UK launch of Nogne O (one of the hottest breweries on the block right now) beer bloody well can't FAIL to be sophisticated and elegant.
Lounge suit was the order of the evening (I couldn't quite decide on the right dickie bow to wear myself), along with ornate furniture, high ceilings, chandeliers and the kind of glorious opulence you might imagine would be more suited to the launch of a new Champagne evening. But this is where beer surprises me, very pleasantly. And it's where beer is totally ahead of the game.
Nogne O is hot right now. So hot, if you haven't tasted any of their beers, then it's like you're rocking last season's fashions. So let me bring you up to speed and get you fully accustomed and firmly on the fashion forward beer track!
It's a Norwegian brewery and there aren't a fat lot of craft breweries in Norway!! I know what you're asking me next… 'How do you pronounce the name of the brewery?' Let me do my best phonetics for you: 'Nurg-nuh-Err'  is the only way I can spell it out for you! Get it? Got it? Good! And it means 'naked island'. No not nudist camp, but it's  a poetic term used by famous Norwegian author, Henrik Ibsen, to better describe any of the many stark, barren outcrops that you can see in the rough sea of the country's southern coast! Deep stuff, huh?!?
You might have seen the dark brown bottles with the jet black label and piercingly bold colours jumping off the bottles at you from the shelf of your resident beer dealer or the fridge of the cool beer bar you like to frequent. They've been cooing at me very seductively from the shelves of the Post Office Vaults in Birmingham city centre for a while. But  – knowing I had this invite  – I clutched my chest for many days and nights, whispering to my wildly beating heart 'Be still, O Brave One. Your time will come'. The guys at Nogne O really CARE about what they make, they care about quality beer, they care about people's desire to settle down with good food and a beer that compliments it AND they aren't afraid to make the occasional strong beer. (Some call that crazy. I call that a stroke of genius)
So, I made it just in time to the Norwegian ambassador's house and as a result I'm bringing you this ACTION PACKED blog post bursting at the seams with sheer, unadulterated Nogne O-ness! There's a video interview with Nogne O's Head Brewer, Kjetil Jikiun – the first I've ever shot on my iPad2 (it was sexy mood lighting in the whole house so the photos are dark too!) Plus there are audio interviews with Melissa Cole, Sophie Atherton and Pete Brown about their thoughts on the beers. So let's get to it.
Time: 630pm. The Place: the cool crib where the Norwegian Ambassador, Mr Kim Traavik, lives.  It was also a pleasure and an honour to come face to face with Nogne O's Head Brewer, Kjetil Jikium. I fell short of curtseying cos I was already too dizzy! They both addressed us at a star-studded reception of beer lovers. The reception also was to celebrate the fact that James Clay is distributing Nogne O's 6 core beers  – and more – across our wondrous land. And the gathering was yet again organised with precision and aplomb by Rupert, Julie and the lovely team at R and R Teamwork.
It was almost a case of who WASN'T there – which makes you realise the sheer level of admiration and respect that has grown around this 10 year old brewery's offerings. I bumped into Beer Writer of The Year Ben McFarland, Melissa Cole*, beer blogger and journalist Sophie Atherton*, Pete Brown & Joe Gooding from The Jolly Butcher*, BGBW's Brewer of the Year Evin O'Riordain from Kernel Brewery , Al & Joe from Shortlist Magazine, Charles McVeigh from Drafthouse Pubs and many more (*Scroll down for audio interviews of what they thought of the beers)
So we were introduced to the beers and sampled them all while listening to The Ambassador and Kjetil Jikium chatting to us. What did we have? Well all the beers are unpasteurised, unfiltered and bottle-conditioned because Kjetil believes that yields the most flavoursome of beers. They also happen to make Saki (Japanese rice wine) but the night was all about their beer. We drank the Saison 6.5% (Belgian style beer made with Belgian yeast) and the Pale Ale (6%), the India Pale Ale (7.5%), the Porter (7%),  Imperial Brown Ale (7.5) and the Imperial Stout (9%) that Kjetil said poured like engine oil from the bottle.
Scroll down for my thoughts but first here's a video interview with the man himself. I don't want to spoil what he told me but his background is fascinating. He's all about quality and a drink that you can enjoy from the beginning to the end of the bottle, and not just from an itty-bitty taster. He's about distinctiveness of beer style too.

What did I think of the beers?
I got a shock, let me tell you! Being a strong, dark ale fan, I was surprised that the Saison, Pale Ale and India Pale Ale were my three faves by a mile. The IPA has a cracking nose full of peaches and pears for me which translated well and assertively into the flavour. The Chinook and Cascade hops (from America) have a lot to answer for because they're responsible for that great lip-smacking hoppy bitterness that didn't outstay its welcome.
The dark ales weren't sweet enough to my taste, not saying they weren't sweet at all because they were; and the balance between the bitterness and the sweetness was beautiful in all of them. But – as you'll know already – my sweet tooth is a little on the rampant side 😉 All the styles are very distinctive and unmistakably what they said on the bottle.
We moved through to a larger room and had some wicked little canapes designed to compliment each beer. Salmon & Caviar blinis for the Saison, some cheese sticks (possibly mild cheddar, I think, but don't quote me) and there were Cheese, Tomato & Pepper Parcel-type affairs which worked really well with the Pale ale and the Saison for me. There were some dinky little lamb burgers in baps for the IPA.  Check out the pics (like I said lots of mood lighting)
And there were also some lush chocolate truffles and some mini-chocolate brownies skewered fresh blackberries & rasberries for us to try with the darker beers. The combination of the Stout and the brownie were incredible. Palate-cleansing and each enhancing the flavours of the other to an exquisite degree. That knocked my socks off to the point where I had to consciously reign myself in.
So here are a few thoughts from some of my lovely friends who were there on the night
Hear Sophie's thoughts on her fave beer of the night
Joe Gooding is from The Jolly Butcher: Pete Brown's fave pub! What did the boys think of the evening?
Hear Melissa's thoughts on the offerings
There  you have it: a top night enjoyed by all!!
If you haven't tried any Nogne-O beers yet then check out your local beer dealer or beer bar. If they haven't got any in yet, then get them to talk to James Clay 😉