My Top Five Beery Tipples for Christmas 2013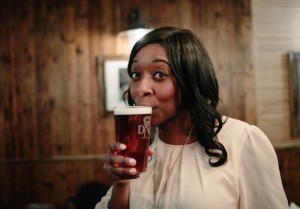 So these are the cheeky little lads and lasses I'll be enjoying this Christmas. Have a go at finding them in the larger supermarkets, otherwise I've linked to where you can buy direct. I'll be up front and say IMO Sainsbury's is the winner on the beer front with a much more eclectic selection than other supermarkets you can try. OK so the majors aren't quite your friendly, know-it-all craft beer store, but they're a good halfway house if you can't order online in time for Christmas delivery. So here goes….

All beers in the shops range between £1.50 and £3 a bottle, be it 330ml or 500ml . So now you know.
ONE
Shepheard Neame's Christmas Ale – 7%
Kent brewers, Shep's can do no wrong in my eyes when it comes to this beer in particular! Imagine sultanas, raisins & dates soaking in rum with of vanilla.  A liquer-like quality dances on your tongue with this beer although no spirits were put in this brew. It's a lip-smacking, mouthwatering full-bodied beer. Maybe try this with Venison or Goose if that's on your table for Christmas Day. Or enjoy after dinner, instead of that glass of port. The very best of Christmas ales in my book!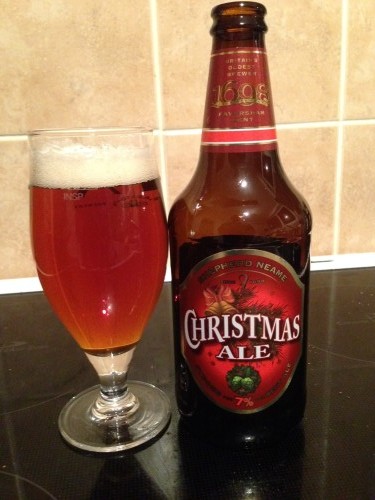 TWO
Thwaites's Brewery – 13 Guns – 5.5%
The minute this beer first touched my lips more than a year ago, I was in heaven. This is fresh, vibrant citrus burst of a pale ale, with the most incredible smooth & crazily creamy mouth-feel brewed with 6 American  & New Zealand hops which are noted for the lemon and lime aromas and flavours they lend to beer. I've witnessed 13 Guns being INSTANT hit amongst people who are new to beer. It's not in the big stores yet, but you can order bottles by clicking here, alongside the rest of the utterly incredible CRAFTY DAN range from this awesome Lancashire brewery.
THREE
Fuller's ESB – 5.9% 
Brewed by another one of Britain's oldest breweries and based in Chiswick (not far from QVC studios). Again this is another full-bodied beer, dark in colour and dark-fruit-like in the flavour it evokes; damsons, raisins in abundance, a moorish sweetness which means you won't put it down. A brewery I truly love too! ESB (Extra Special Bitter) would be perfect to drink with your Roast Beef dinner on the Sunday after Christmas.
FOUR
Innis and Gunn – 6.6%
This is beer matured with chips from oak barrels which have previously held whisky – so you can imagine the big kick you'll get out of this tasty beer. One to be drunk alone or perhaps with seafood. I've been up to Scotland to Douglas who created the brew. He's a terrific guy and he tells me this beer matches incredibly well with oysters. Go try it!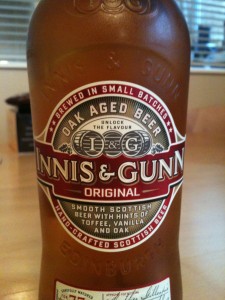 FIVE
Imperial Raspberry Stout – 10% – made by Thornbridge Brewery with fresh Scottish strawberries, brewed with Jessica Heidrich from Swedish brewers, St Eriks.
When I tweeted about drinking this beer, beer fans on Twitter went crazy. I was turning cartwheels with each mouthful to be honest. How on earth could a stout be so awesome? You had dark, mystical black colour of the stout, the smoky nature of a good stout, delicious raspberry taste, a lip-smacking sweetness – all  along with the tartness/sourness, akin to that of when you taste a cider.  The beer was conditioned in its bottle with champagne yeast and primed with dark brown suger.  Order this direct from Thornbridge (who are Rock Star brewery in my book: one of the best in the UK). Believe you me, it'll be worth the wait!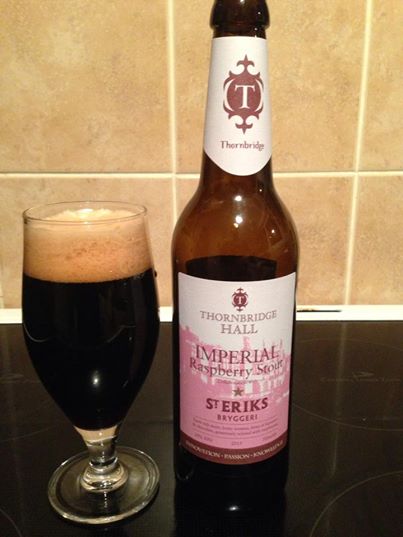 So that's my lot! For this year at any rate. Hope you manage to get hold of some of these and enjoy them! Let me know if you do, either here or on my QVC blog page OR either of my Facebook fan pages (Beer or QVC)