Speed Tasting Beer at the Beer Bloggers Conf #EBBC12
Perhaps the best session of all was the live speed tasting of ten, yes 10, beers!! I think we them in 3minutes bursts with someone from each brewery giving us the spiel, us tasting and musing on each one and making notes as fast as we could (whichever way we wanted: I tweeted each one) It was no mean feat, I just about glimpsed all the brewers in the eye cos I was so busy looking at each beer, tasting and weighing up what I wanted to (and could) type in 140 characters 😉
Tops for me though was Rooster's Brewing Co's brilliantly name Baby-Faced Assassin IPA (6%). It's a cunning beer by the twin brothers in the business, Oli & Tom Fozard. Apparently they came up with the homebrew receipe in the back office of Beer Ritz (a hot little beer boutique in Leeds, run by my ultra-fabulous friend & ace-tastic award-winning beer writer & author, Zak Avery)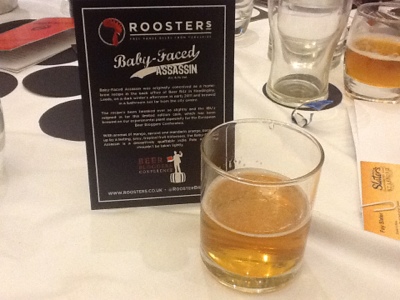 Depending on how you feel about tropical fruit flavours, this is a Marmite beer: you'll either love  it or hate it. Now I LOVE mangoes (stands to reason with me having Jamaican parents) so if you do too, then you might like this beer. It packs a punch with an intense mango aroma which translates well into the beer so you get a mangoey, apricotty explosion in your mouth which is seductively delicious and delicate, with a very moorish balance of strong, deep bitterness and sweetness all at the same time. KERPOW!
Problem is it's a limited edition beer at the moment: they brewed this one again exclusively for us beer geeks at the European Beer Bloggers conference (and toned down the bitterness a little), the plan being to bottle a few to sell through Beer Ritz (**)
In my opinion it was totally amazing and – as it was the 9th out of 10 beers we speed-tasted (I can't even remember the 10th!) I grabbed another glass while chatting to the Fozard lads some more afterwards: it's fair to say they were mobbed and I've no doubt they finished the whole cask. I'm not a massive fan of aggressively hopped beers and neither is Roosters, so I think we can be friends for life
** Truth is I already have some bottles in my disposal. The Hubz and I have drunk one and the others are in the kegerator! 
We also drank some others which paled into comparison really so I'll dole out a list if anyone asks me to! So for now, it's GO, ROOSTER'S! I'll come and visit you soon