Tag Archives:
party
So Thursday night's party was amazing. I think there was just short of 40 women in the room. We sampled 6 Fownes Brewing beers along with 6 dishes which I'd devised to complement each beer. Judging by all the smiling faces in the room and the high noise levels, I reckon everyone had a blast. The men in the other bar next door all shot around the corner after 8pm to say how much they'd learn, just by eavesdropping! LOL! So check out some pictures. All in all, another triumph. Don't forget if you want me to host a beer party for you, just look over to the right hand column of my website at the FOLLOW ME section, and click on the Email icon to make a direct email enquiry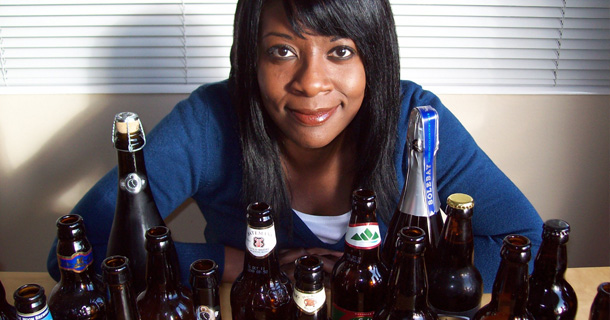 So yesterday I took a really tough exam in London and I passed. I'm now a Beer Sommelier. You've heard of Wine Sommeliers who know an awful lot about wine? So I'm the equivalent when it comes to talking your head off about beer.
I'm chuffed to bits again, especially after sitting in front of Dr George Philliskirk, the Director of The Beer Academy (who has a PHD in Yeast Research from Birmingham University) for an hour and a half proving my beer knowledge and beery tastebuds. It was scary and he pulled no punches. It wasn't easy to even get to the exam: I had to attend a couple of courses and apply to actually take the exam, proving my out-and-out passion for beer.