Tag Archives:
pete brown
It's been brewing for ages, this one (geddit??) But today is the day. With beer appearing not once, but TWICE on the tellybox today, I couldn't resist. And to hell with my book-keeping. I've been distracted by This Morning doing beer cocktails with mixologist Oskar Kinberg (Calm down all you beer purists out there!) and then tonight hit show, The Apprentice has the candidates making beer (and having some serious issues!). I hear Tring Brewery, Banks's and Brewdog all feature somewhere tonight!
My wonderful beer blogging chums Leigh and Phil have gone down this road too (thanks to them for mentioning me and my forays into championing beer on the TV). So your homework over the next few days is to conjure up and tell me what your Fantasy TV Beer Show is. I don't mean YouTube channels, I mean Freeview or subscription channels. And no, it can't feature David Beckham presenting in his skimpy keks or Louise Redknap in a bikini (!) You heard me. I said 'NO!'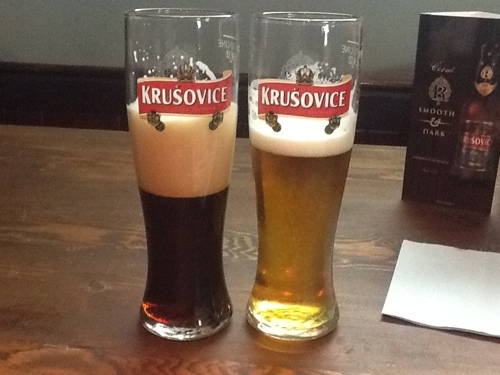 I had a big surprise tonight: I got a invite to the UK launch of two beers from a Czech brewery called Krušovice (pron: Croo-sho-veetcha). By the time I reached the lovely Draft House Tower Bridge Tasting Rooms I was soggy and boiling hot from the muggy weather outside, so gasping for a drink. I was handed a golden glass of 5.0% ABV Imperial lager, cold and dripping with tantalising condensation. And after one sip, I couldn't stop. And though another beer – the 3.8% ABV dark lager – was also being launched (the beers are available in Scotland already) Imperial won the afternoon for me and made a big impression.