Taking Badger Ales to #BritmumsLive 2012
Friday was pretty brilliant! Rachel Burleigh from Badger Ales and I pitched up at the first EVER Britmums Live conference to hand out FREE beer samples and wax lyrical about how cool a drink beer is! My blog tagline is 'There is beauty in beer' and I think everyone who came to our stand agreed!
It was extraordinary to meet some of the amazing Mum bloggers who I've been twitter friends with for the last year to 18months. And apart from the blogging extravaganza, I asked my fab chums from Badgers Ales to come along with me to host a beer tasting for thirsty Mums on the afternoon of the first day! Badgers Ales are a terrific brewery from Dorset who've been brewing in Britain since 1777!!!! I love many of the beers they make, and they even make a couple of ciders (shock, horror!! Lol!) If you've not heard of them yet then check them out – you can pick up some of their beers in most of the big supermarkets!
For anyone who doesn't know what BritMums is: it's a very impressive network of around Mum (and Dad) bloggers and the BritmumsLive was a conference for 500 Mum (and some Dad) bloggers. People turned up on Friday afternoon and all day Saturday to network with one another, meet each other for the first time and learn & share info on how to improve their blogs. There were workshops covering everything from insights into Google+, Pinterest, Photography and VideoBlogging. And there was a vast array of expertise offered by some of the top Mum bloggers about 'Taking It To The Next Level' for example (@Nickie72 and @HerMelness were on that panel! I am not worthy!!) Plus there were also some superb speakers: Ruby Wax opened the conference talking movingly about her depression, Sarah Brown was the Keynote on Saturday morning, plus there was Chelsea Healey, Katy Hill and many more. Hip, hip hoorray to the amazing organisers Jennifer, Susanna, Maddy and the rest of the team for pulling a fabulous conference together!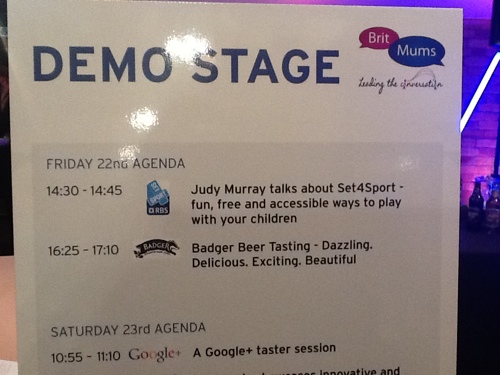 I got the iPad out to take pics but, it's tricky hosting and capturing at the same time and – to be honest – Rachel and I were mobbed at the demo stage! It was immense fun. Cheers to all the Mum (and Dad bloggers) who joined in and asked tons of questions and enjoyed the beers. Do please share any pictures you took that afternoon.
Here are a few of mine:
What was hilarious was that I pretty much hijacked the whole room full of other exhibition stands because I got given the wrong mic to talk to our happy beer tasters and it was too loud. So many people from other stands came over saying they could hear me talking about beer from the other side of the room, and had to track us down to take part. Not my fault and sorry if you found my harping on about the Goddess of Beer and all that jazz a little too piercing for your ears. Hope we didn't spoil your fun too much!!
For the record we drank
HOPPING HARE
GOLDEN CHAMPION
GOLDEN GLORY
BLANDFORD FLYER
POACHER'S CHOICE
Big up to the following fab bloggers who showed their appreciation for our beery fun! Reluctant House Dad, Cafe Bebe's Karin Joyce, John Arnold, I Am Typecast's Nickie, Elaine Croft from Stars & Roses, Tim Atkinson from Bringing up Charlie, Monocle and Fez, Kerry Davies from The Love Bump, Lesley Singleton and many, many more! Sorry if I missed you, holler if I did!!
PS Might need to steal this idea from the Wine sponsors of the event for my next one 😉