The most triumphant INAUGURAL Birmingham Beer Bash 2013! [VIDEO]
I started without help. Then I got the dictionary. Then I got my thesaurus. But there really truly aren't enough positive adjectives and superlatives in the entire world to describe how fabulous the Birmingham Beer Bash was this weekend. So I thought I'd leave you to come up with your own and insert as many as you can into this space. What can I say? The team, led by David Shipman, Dan Brown and Stewart Sandilands had vision, and in my opinion they didn't disappoint. They exceeded expectations!! Watch my video (coming soon!) and check out my Facebook pictures to see the awesomeness that ensued and see how many brewers t-shirts you can spot!!  All it leaves me to say is I was overwhelmed and ever so slightly emotional that the guys pulled it off. A bunch of Brummie beer fans who decided to link up after various chats and socials over damn fine beer, and put on a new breed of festival – beers dispensed all manner of ways – all just bloody brilliant beer!!! I'm sure it will be back next year even bigger and better and so if you missed out, then you better make sure you make room in your diary for next year's Bash. PS My fab pal & beer writer, Phil, whom I hold in extremely high regard, also thought the event was super cool.
Brewers who came to our wonderful hometown, the second city of England included: Wild Beer Co, Northern Monk Brew Co, Liverpool Craft Beer, Five Points Brewing, Offbeat Brewery, Hardknott Brewery, Compass Brewery and many many many many more!!!!!! And not forgetting the fabulous sponsors who helped make the whole thing possible. Read the experience as explained by David Shipman here. I've also enclosed some photos and also some tweets.
@bodie15: @BeerBeauty @birminghamcubed fantastic day. Hope there is another one next year. Well worth the 225 mile trip from Plymouth!

— Visit Birmingham (@visit_bham) July 28, 2013
Met the fabulous @BeerBeauty finally. Enjoying the Northern Monk New World. Tremendous evening at @birminghamcubed

— Stuart John Bulloch (@stubulloch) July 26, 2013
@BeerBeauty @HardknottAnn @HardKnottDave @ckdsaddlers @offbrew @birminghamcubed It's been quite a who's who today! B-) #bCubed

— Krishan (@StirchleyWines) July 26, 2013
@BeerBeauty Got to the bash in the end and worth every penny what a cracking night

— Kevin TheCob Bolger (@KevPBolger) July 27, 2013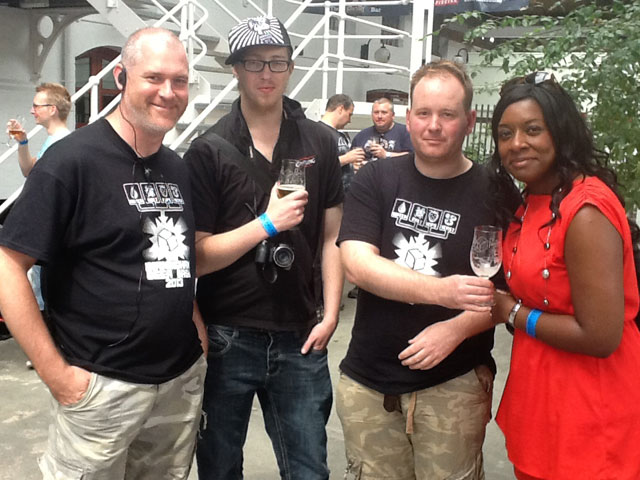 Met @BeerBeauty at @birminghamcubed… Best beer experience EVER.

— Claudia (@MissClaudy) July 27, 2013
I've met loads of great people @birminghamcubed next year will big shout out to @BeerBeauty you make beer accessible I salute you

— RichyC (@RichTheVillan) July 27, 2013
Awesome tasting sessions @birminghamcubed from the amazing @BeerBeauty & the informative @CptCheerful, & thanks to @TheRealStewbert

— Dave Hopkins (@davhop72) July 28, 2013
I want to say a MASSIVE thank you to all the wonderful peeps who came out to my tasting session at 1pm – a full room, very hot but we had some fabulous beers. I can only apologise for being slightly off form because I spent the Friday night at the Bash as a punter with The Hubz, got a bit overexcited and overundulged on Durham Brewery's 8.2% Benedictus barley wine and the stunning Hardknott Brewery's cherry-tastic 10.2% Rhetoric2 (my fave beer of the festival in fact). Whoops! What can I say? I got lost in the moment. Nearly got lost on the way home too;-)
I brought some glamour to the occasion with my Louboutins (a present from my pal, Dawn Williamson who's an acetastic expert Fashionista)
I also want to shout out to all the amazing beer peeps I met who came up and had a chat (sorry I had to rush off on Saturday as I was helping The Hubz shoot at 8am on Sunday morning)