The Post Office Vaults, Birmingham [REVIEW]
By the end of 2012 the beer scene in Birmingham will have changed beyond recognition. Word on the street is that not one, not two but three new craft beer bars will be open for business by Christmas. Properly exciting for my hometown, cos we have a few (but not many) hip beer bars a la North Bar, Leeds, for example. I dream of a craft beer bar in Brum where I can listen to some Hot Chip in the background, and eat some fabulous food, without having to endure the smell of musty old carpets under my nose the whole time, where the bar staff are hyped about the drinks offering and can recommend all manner of wondrous beverages to you, where there's something exciting happening every week for me and my mates to get to (Meet The Brewer, Beer & Food matching dinner, Live Comedy, Live Acoustic music, say). Basically where the all-consuming vibe is 'Come in, chill out with a few beers and your mates, have a bite to eat and stay a while'

There are no decent pubs within walking distance of my house. I have to take a trip into the town for anything meaningful and working away a lot means I don't get to visit the lovely pubs of Brum as much as I'd like.
So Brewdog, and two other consortiums I know are looking to make Brum the beer mecca that Britain's second city deserves to be. Not saying that what we have in Brumtown ain't kicking it when it comes to its existing beer offerings, cos it IS. To name but a few, there's fab pubs in Digbeth (The Anchor), The Jewellery Quarter (The Rose Villa Tavern, The Lord Clifden, The Brown Lion, The Red Lion) and the City centre (The Old Joint Stock run by Fuller's & a personal fave of mine and The Welly).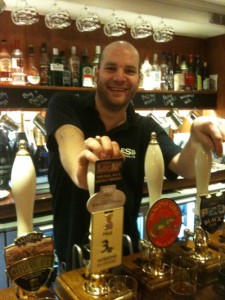 But this post is a big doffing of my literary cap to the utterly fabulous Post Office Vaults pub, a mere 5min stroll away from the Navigation Street exit of Birmingham's main train station, New Street. If you stand outside the main front door you can look up to the imposing council house and see the iconic Floozy In The Jacuzzi and The Iron Man!!
Ages ago, I'm shamefaced to say, I recorded an interview with the lovely Licensee, Mike Perkins and he told me about his top 3 beers. He's ever the congenial host and adores his beers – so when The Hubz and I dropped in last Saturday for a half, it inevitably DIDN'T turn out to be a half and he cracked open some lovely foreign beers for us to try. He and Eleanor are great hosts.
Click HERE to listen to the interview with Mike.
We also got chatting to a fellow girl beer geek , Shelly and we shared some womderful beers that afternoon – cheers for the Odell's 5 Barrels, darling!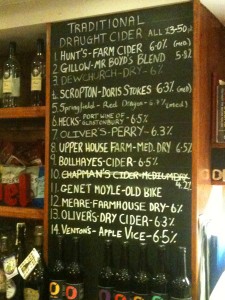 The PO Vaults is memorable for its unusual location it's in a basement, so if you're looking for a beer garden, you won't find one here. That doesn't stop tons of people making a pilgrimage for good British ales on cask (8 handpulls), an impressive Cider offering and their remarkable beer range. It doesn't stop me either so make sure the next time in Brum you make a beeline for the PO Vaults.
(Mike, beware I'll come back and do a video interview with you real soon)
In the meantime this is what I've been having there lately (the last two pics is from a trip back in March!)