My beer haul from a visit to Greene King brewery, Suffolk
'What would you like?' John asked me. Those words were music to my ears. I was standing in the Greene King brewery visitor centre shop. And John isn't just any old John. He is in fact John Bexon, Head Brewer. 37 years experience in brewing, a good ten years plus of those with the biggest brewery & pub chain in Bury St Edmunds, in Suffolk. I dropped by to check out their annual Food & Drink festival last weekend. A foodie paradise over two days, packed out with local independent food and drink producers, and local bands on stage in Westbury Gardens within the brewery grounds. I'd screwed my timings up, but abfab PR & Events Manager, Claire stepped into the breach to see if John could find some time for me in his busy morning for us. We had a good old natter and I had a quick mooch around!

You'll have seen and heard the 'crowd pleaser' beers (as I like to call them) that Greene King makes, their biggest sellers: Old Speckled Hen, Greene King IPA and Abbot Ale. But in answer to John's original question, I didn't ask him to put the classic versions of any of those beers into my goody bag.
Regular readers of my blog will know I'm a girl who likes beers that pack a punch –  both in flavour and strength. So here's my haul. An anomaly was secreted into that line-up though: Tolly's Old English at 2.8%. I've yet to be convinced on low strength beers, but John said I need to give theirs a whirl, as he said it's brewed to be full of character, despite the low level of alcohol.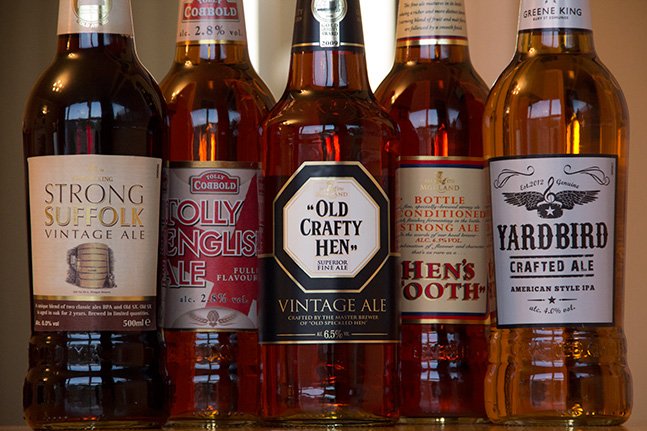 Yardbird, 4% strength is more an 'American-inspired IPA', as opposed to an actual American-style IPA, John told me. If it was the latter you'd most likely get a massive knock of high alcoholic strength and higher bitterness levels. It's a summer seasonal (?) and shows that GK is fully aware of the increasing demands from the public, especially on more traditional brewers, to dip their toes in the water and produce new styles of beers, with hop varieties they might not have used in the past, to make very 'different from their norm' offerings.
So John told me there are a few more adventures this year in the offing for Greene King: one collab and another new beer style. I will double-check if I'm allowed to reveal those just yet. In the meantime, you probably won't find the the beers I have in my line-up in the shops, but you can get them all online direct.
Plus I'm very much looking forward to glazing a big fat hunk of Pork with a combination of these little beauties! Cheers for the tip, John