Your guide to the fab pubs near Birmingham's new-look train station [MAP]
The second city to me has always been grand. It's my home. It's the city of my birth and I love it. And Birmingham is about to get even more grand with the revelation of the first half of our brand spanking new train station. It's 150 years old and hasn't seen so much as a lick of paint since it was redeveloped back in 1967. Well, no, that's a fib. Of course it has. But for years for many people Birmingham New Street station has been dark, tired and resembled something akin to a rather sinister underground mortuary. As of Sunday 28th April 2013, it's all change! The old concourse and entrance closes for good and it moves aspect to Stephenson Street where we get a new bright, light concourse and lots of lovely shiny-ness to greet us whenever we head off on our journeys. What has this got to do with pubs?? Well,  the change of entrance to what will  eventually be called 'Grand Central Birmingham' (eh?!?? who thought that one up?) means you're even closer to some of my fair city's superb pubs and beer bars! So I thought I'd draw up my personal list of the finest hostelries in walking distance from the train station.

In a break with the old tradition of many major British train stations having a pub somewhere on the platform – The Shakespeare is closing down and there'll be no new train station pub at Birmingham. Since Wednesday they've been selling stock at 20% off to get rid of it all! It's owned by SSP Travel and I hope the staff all get new jobs in other outlets at the station. But TBH it never looked that inviting. Always mass-produced lager deals on. I'm just gobsmacked there's not going to be a Birmingham Tap. OPPORTUNITY MISSED OR WHAT???
Here's what the new bit looked like today. They reckon they'll be handing over the keys on midnight Saturday, ready for opening to the public on Sunday! WOW!
So back to the beer! Here's your list!
THE VICTORIA @TheVictoria
Where? 48 John Bright Street, B1 1HN, 0121 633 9439
Come out of the station, bear left onto Stephenson Street, left again onto Navigation Street until you get to the corner of Station Street and John Bright Street. It's a 5-10 min walk, if that.
What's it got? Amazing beers, British cask and foreign bottles and US cans! Soul food menu.
Atmos? The most amazing staff, I met Elliot (Pricey) and Elliot (Bluqu). Those boys love their beer, they are massively passionate about it and are bounding with energy to suggest beers for you to drink.
They gave me a couple of beers samples: Geek Unique from Birmingham's newest microbrewery, Beer Geek is dark, raisin-like and low-hopped so tasted like  a Mild. At 4.3% it's very drinkable. Hardknott's Duality packed full of lime flavour, with a fresh meadows aroma: I couldn't fault it. Well, Hardknott Dave can do nothing wrong, in my eyes. The pub has three guest ales, and they always have Herefordshire brewery Wye Valley's Butty Bach on.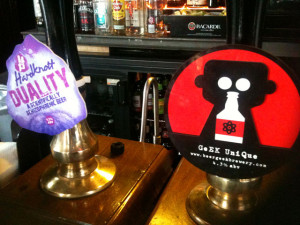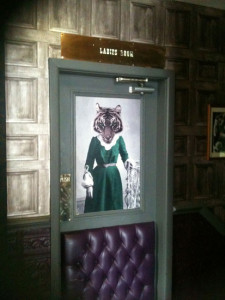 Atmos? DJ sets on a Friday and Saturday night. It's dark (but when it's sunny the light streams through the amazing (original) stain-glass windows. It's got a warm, cosy feel, with funky background music playing at a low-level, I don't remember seeing wall-mounted TV screens. It's a sassy mixture of traditional and down-right modern. Stunning beers, mouth-watering food menu.  The epitome of cool. Get down there. NOW!
BREWDOG BIRMINGHAM @BrewDogBirm
Where? 81-87 John Bright Street, B1 1BL, 0121 616 1339
Come out of the Victoria (!) turn right past The Alexandra Theatre, and it's 2 minutes up the road on the left hand side. You can't miss it!
What's it got? What hasn't it got? Brewdog beers on cask plus a crazy selection of foreign beers.
Atmos? An industrial feel, metallic fittings, tall tables and stools, with some American diner-style booths upstairs and a cute little area downstairs under the metal staircase with comfy old leather sofas which makes families & kids welcome. Food? burgers, wings, meat and cheese boards. Lip-smackingly good! Live music sets on a Sunday night. Check out the pics on their Facebook page.
THE CRAVEN ARMS @CravenArmsBrum *
Where? Upper Gough Street, Birmingham B1 1JG
Come out of Brewdog, bear left,  left again past the Sainsburys local and up to the Mailbox complex.  Under the coloured balloon lights, and if you take the road to the far left of the main steps up which lead up to the Mailbox (Severn Street) Commercial Street, then you pass the Masonic Hall on your left and cross over to Upper Gough Street, it's on the corner,
What's it got? 9 ales + and craft lagers & pilsners like the lovely Czech Krusovice (remember I met the Head Brewer?)
Atmos? Light-airy, no background music, one room, relaxing, tranquil, friendly. I chatted to licensee (and former Science Teacher!) Chris and his other half, Sharon. Also bumped into the jolly three J's (Joe, Jez and Julian) builders from Leicestershire who persuaded me to have a beer with them. Thank God they left before me, otherwise I'd still be there chatting to them now!  No kitchen for hot food, they sell crusty cobs and  – on Thursdays and Fridays  – they get a delivery of local, freshly-made pork pies. Mad fact: the pub's licenced to open from 0830 – 0430 (!), a legacy from its connections to the former Royal Mail sorting office which was nearby and has since become the Mailbox shopping complex.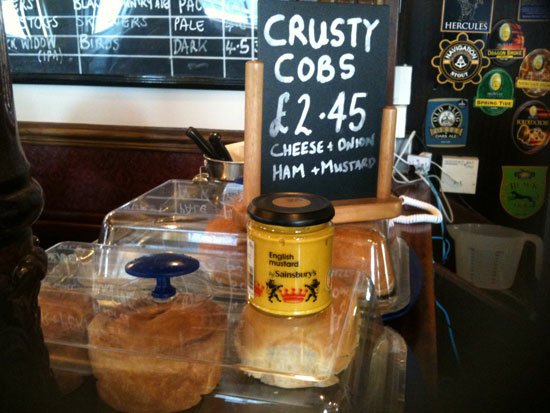 THE POST OFFICE VAULTS @POVaults
Where? 84 New Street, Birmingham B2 4BA
It's easier and faster to walk out along to the front of the Mailbox, go back up past the station exit along Stephenson Place and sneak up to the pub's Pinfold Street entrance! And luckily for the PO Vaults, the main entrance of the station is ridiculously close to that very street! Genius, eh?
What's it got? A picture says a thousand words…see the chalk board
Atmos? It's dark, down the bottom of some stairs. But nevertheless it's cute, cosy and cheery. I love this place. Read my review and listen to my interview with the licensee, Mike!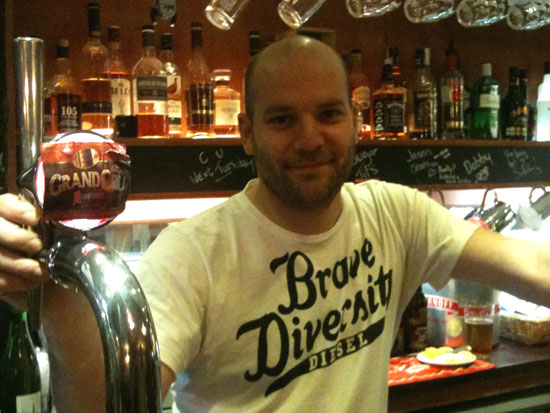 THE WELLINGTON @WellyRealAle *
Where? 37 Bennetts Hill, Birmingham B2 5SN, 0121 200 3115
Come out of PO Vaults onto Pinfold Street and take a right up the hill to the corner, go left past Supercuts hairdressers on the the right onto New Street and down the pedestrianised hill. Bennetts Hill is the second on the left. There's a Nationwide on the corner, walk up past that to the top of the road, cross over and then the 'Welly' as it's affectionately known is on the right.
What's it got? A ruck of beers: 15 handpulls, an expansive foreign bottles fridge section and they do a very decent line in ciders (if that's your bag). You need to order your beer by its corresponding number on the flat screen wall-mounted TV. No kitchen, and no food served at all but you can bring your own food in!!! BONUS!
Atmos? No music, so quiet contemplation is the order of the day here, except for the Dartboard Corner which can get lively sometimes! It's got a cute little beer garden in the back, which backs onto The Old Joint Stock (see below! The Welly's being refurbished right now, to add in a roof terrace. Nice touch of Nigel to make the plans available on the wall for drinkers to check out.
THE OLD JOINT STOCK @OldJointStock
Where? 4 Temple Row West  Birmingham B2 5NY, 0121 200 1892
Walk out of  the beer garden of The Welly and over into the Beer Garden of The OJS. Saves you having to walk around the block to get to it!
What's it got? 
This is a Fuller's pub. This is the furthest north this West London brewery goes on its pub estate and, boy, aren't we lucky? The bar is packed with all their star beers (London Pride, Honey Dew, ESB and many more, it has at least 5 guest ales on!) PLUS it's a theatre – packed full of terrific local productions, an absolute must. Put it this way, I had a massive birthday party there, I've filmed for corporate videos in there, I've thrown a Ladies Only beer party in there and The Hubz & I had our some of engagement photos taken in there.  I rest my case!
Atmos? Ridiculously high ceilings, it actually has the feel of the catholic cathedral I got married in. You have to be in it to believe it. So don't just sit there, go to the Old Joint Stock.
So what do you think about Birmingham no longer having a station tap? Can you recommend a brilliant station tap you know and why? Can you add any more to my list?
Get in touch – Tweet me or drop a note on my Facebook page.
*Black Country Ales pub
================================
CHEERS TO STU DAVIS FOR THIS GREAT MAP TOO!