Beers I have loved (and not!) lately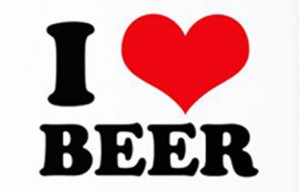 So last month I celebrated a year of writing this blog of mine. And this week Thursday I celebrate a very scary birthday of mine. I'm not celebrating as such, more hiding under the duvet in shock. But on the flipside it gives me licence to give you a run down of some more beer porn, in particular the beers I've been loving lately. And the ones that I didn't in all honesty like that much. So come on, let's get cracking!
So you know I'm not a beer reviews site as such. There are plenty of those out there that do a more than fabulous job like my friend up north, The Ormskirk Baron and my friends over in Wales, Real Ale Guide
But in no particular order here are a few I've been drinking these last few months. Cheers to the lovely breweries who've sent me samples (of which I get many and some of whom I'm bound to have missed off the list. Sorry if I have, but you know I appreciate it, don't you ;-))
What can I say about this beer is KAPOW! There are so many things I love about this but most important for me is how the addition of vanilla pods to this stunning strong, very dark, creamy 6.6% ABV beer gives it a milk chocolate quality which cannot be underestimated. The delicious flavour in this beer makes it so moorish, I drank a whole bottle to myself so fast one night that I nearly made myself sick
For me I prefer a sweetness in any beer because of my profoundly sweet tooth. This is to be noted for all the rest of the reviews: SWEETNESS is the ledge upon which I firmly sit and take a peek at the beer world. Remember that.
I also love the guys at Sadlers Ales for a myriad of reasons. I'm pleased to say their beers (Hop Bomb & The Spig) caused stirrings of love amongst many at this year's GBBF. But I don't just love them because of that. I love Sadlers because they are based not a million miles away from me in a place called Lye in the West Midlands. My memories of Lye are strong & evocative: I used to drive through Lye from my Mum's house on the way to the Midlands very own Westfields: the delightful Merry Hill (or Merry Hell to some people) Shopping Centre.   I once went with a mate of mine to buy her first car off an unseemly-looking second-hand car firm close to Lye High Street and much hilarity ensued when the sorry vehicle broke down no sooner we got it off the lot! Plus I have never seen so many Balti house lined along one street in my LIFE as there are in Lye. I'm ashamed to say I haven't yet found the time to visit the guys at Sadlers to muck in and snoop around. But I will. I heard that the 5th generation of Sadlers is due to make their entrance in the world. Wonderful news! I order you to go buy this beer with which to wet the new baby's head forthwith! End of sales pitch!
Next up is Euston Tap just outside London's Euston station!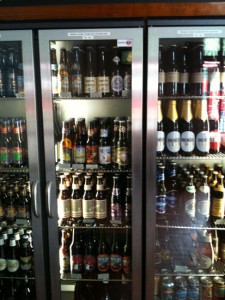 My cheeky stop off to the Euston Tap last month was promoted by 2 things: an urgent need to anaesthetise the fourth toe of my right foot, which I'd accidentally broken earlier that morning. So what the hell was I doing walking around in London at lunchtime with a broken toe? Good question: At 530am, and thus half asleep, I was rushing to my train from Brum to London for a telly job. I was due to spend the morning standing in front of an autocue for a corporate video. I smashed my toe on the foot of my bed (BIG OUCH) and consequently had to hobble my way there after getting on the train. So while waiting for the train back I snuck in and spent 30mins supping on Dark Star's Partridge Best and Bradfield's Brown Cow. Both brilliant and right up my taste street.
So last month these three little beauties got a blasting in the press. By many (including me) who don't think women need 'special' beers. Molson Coors have produced the 'Animee' range. The same company responsible for beers like Carling, Grolsch and Heineken. Molson Coors also set up The Bittersweet Partnership, to try and help women unleash their love of beer. I love what BSP do and I love the fact they've spoken to over 30,000 women about what they like and don't like about beer. Molson Coors say that "aims to dispel the perception among women that all beers look and taste the same and that there is nothing to tell them apart." The company spent 2 years developing it in response to their research which showed that 79% of women they surveyed never or rarely drink beer.
I think it's a bit unfair though for people to slag the beers off out of hand, without actually trying them. So let me give you my honest verdict on them all:
the CLEAR FILTERED one – to me tasted somewhat blander than Carling. And I'm not a Carling fan, never have been and never will be cos to me Carling just doesn't have any flavour UMPFFF. It just tasted of nothing really. Quite bland.
I sniffed and snipped, then I sniffed and sipped again, and ended up spending the life of the 275ml bottle trying to remember what the smell of the LEMON Animee beer reminded me of. Then it hit me: it smelt like the Shandy Bass that I used to drink as a kid. The Shandy Bass I used to get very excited about, I might add, cos it was me being allowed by Mummy Beer Beauty to drink booze – even if it contained less than  1% beer!
Finally onto the ROSE beer, which for me brought back memories of the MASONS' Cherryade my Mum used to buy from us off the back of his delivery van each week. Except this beer smelt like a weaker, watered down version of the Cherryade and much less sweet. All in all these 3 beers didn't do a fat lot for me. I really didn't enjoy them because they aren't to my taste. That's not to say they won't be to the taste of ladies around the UK who buy them.
As you know  Beer Beauty is all for getting more women into beer. If these beers help women make their very first foray into beer, and they LIKE them, thus giving them impetus to get exploring and trying more and more beers, then more power Molson Coors. The big danger with these ones in particular is that I'm not sure they're going to work.  Especially when I recall all the parties I've thrown for women who positively lap up very bitter IPAs, Porters, Stouts and very strong beers which are more aligned to their love of high ABV wines and spirits. Anyway, I rest my case.
And so on to Greene King, the makers of Old Speckled Hen, who recently unveiled a new beer at the GBBF the other week. I had a bottle in the post to try out the week before. At 4.1% ABV this Old Golden Hen is lighter than the Speckled and they tell it me was brewed to 'specifically appeal to premium lager drinkers looking for more taste'.
It was a nice clean, tasty beer and I can see why people buy it in their droves but, for me, it was a little too biscuity and had too dry a finish.  It wasn't satisfying or in the least bit moorish. So NULL point on the beer, but an unexpected DOUZE point on the marketing of this new beer. The crazy bottle in the egg and the raft of videos Greene King have made to promote their Old Speckled Hen are pretty groovy. And if you've not seen any of them, then you've GOT to check them out. They all feature a puppet fox  (who's permanently perched on a bar stool in a pub, cutting a dash like Basil Brush's very refined Grandad). I've had a great time watching all the hilarious TV sponsorship bumpers on YouTube and I've posted my fave below….You gotta love The Fox!
HEALTH WARNING: these beers are not for the faint-hearted. But if you like your liquor and you're after a beer with a warming kick of an evening, then these 2 babies will be right up your street. Matured in whisky casks, these limited editions beers were lush. But my fave of the two was the Canada Day special (8.3% ABV) . Why? It was the sweeter of the two and slightly stronger, of course! DOH! The tripled matured bottle weighs in at a hefty 7.2% ABV and was still lush. So why did I prefer Canada Day special? Canada's a massive market for Innis & Gunn, the company that makes these beers. It was left to mature in bourbon oak casks this time around and so the vanilla and toffee flavours were right up there on top of the flavour. They warmed me up on a cold even camping with The Main Man and friends in the Cotswolds a couple of weekends ago. The four of us huddled under the awning attached to their lovely Eriba, putting the world to rights until the early hours, listening to old '80s choons, some Beatles and Bob Dylan. What a night

It's fair to say I LOVE my pilsners. After my crazy weekend at The Open with Pilsner Urquell, I've a newfound respect for this beer style. Windsor & Eton have made something rather incredible here – it's just so light and moorish and tempting. Less bitter on the finish for me, which is a delight. Might have to order myself a case 😉 Cheers to Paddy from the brewery who whizzed me over a bottle the other week.
I've never been a fan of massive ginger flavours. There was an unusual & irrational thirst among my friends when I was a kid for Old Jamaica Ginger Beer, which a) I didn't understand because b) I found it truly disgusting. But I tried a Blandford Fly (now Blandford Flyer) last November and fell in love. Wychwood sent me a mini-hamper with some cheese (it had died due to the hot weather) and some dark chocolate to go with the bottle of Ginger Beard. I didn't see any of the dark chocolate after it fell into the hands of The Main Man 😉 so this beer was on the money for me – sweet and gingery without blowing your skull wide open and burning out the back of your throat, a la Old Jamaica, I reckon I could only stand one bottle in any one night but it was gorgeous.
I've had these old faithfuls. I do love Badger Ales and they've had a bit of a make-over on the label front, but not on a flavour front. I've yet to tuck into them all but needless to say if you've not sampled these darlings yet, get involved
And speaking of darlings, this 'classic style Vienna lager' by my friends at Thornbridge is absolutely incredible. A dark, sweet beer which reminds me of a feistier Hobgoblin and the rest. (If you don't like Hobgoblin I meant no offence but you need to get over it!) And all in conjunction with an artist called Kid Acne, who designed the bottle label. Sorry, I don't know who he is. But he's very excited about the collab. Check it out.
And last but not least, 2 beers that I adored, kindly sent by Jim at Brentwood Brewing Co. He sent a box of beers through of varying flavours and colours. I can't believe I forgot to take a pic of all the goodies inside: but my 2 top faves were the Hope & Glory and the one above, Canary Pale Ale. Hope and Glory was a lush ruby beer, smelt fruity and wasn't unpleasant even if a little too dry and bitter on the finish for me. You're going to have to try them for yourself but a BIG THANK-YOU to Jim The Brewer from Brentwood who I had the pleasure of meeting at the the GBBF and who works with Sophie (another new pal, and one of the Venus Rouge brewster team.)
For more on the beers in my box, check out The Ormskirk Baron(who got sent the box too) and who's done a fab vids about them
http://youtu.be/bsEAVoWQtrM
So my jottings are done for this birthday week. Spare a thought for me cos I'll won't be resting my liver until at least next Tuesday. Cos not only is it my birthday this Thursday 25th August, but it's The Main Man's on Monday 29th! Two Virgos in one household doth a hellish household make 😉
Until next time, folks!