Time to meet a Beer Sommelier!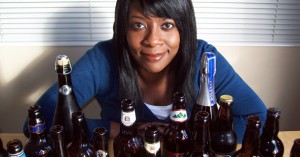 So yesterday I took a really tough exam in London and I passed. I'm now a Beer Sommelier. You've heard of Wine Sommeliers who know an awful lot about wine? So I'm the equivalent when it comes to talking your head off about beer.
I'm chuffed to bits again, especially after sitting in front of Dr George Philliskirk, the Director of The Beer Academy (who has a PHD in Yeast Research from Birmingham University) for an hour and a half proving my beer knowledge and beery tastebuds. It was scary and he pulled no punches. It wasn't easy to even get to the exam: I had to attend a couple of courses and apply to actually take the exam, proving my out-and-out passion for beer.
So I've got some exciting changes lined up for this wonderful blog, so you can learn more from me about beer.
And ladies, don't forget you can join me for my Christmas party in a couple of weeks in Birmingham city centre. You won't just be drinking samples of beer, but you'll be learning all about the brewing process and how to detect the luscious aromas and flavours in beer as well as trying some wonderful food which will be served to complement each beer we drink. Plus there's be prizes and entertainment from a special guest!
Join the Beer Beauty party. And look out for me on the telly in a few weeks time on a popular TV show talking about my Christmas beer suggestions! !
 PS Watch out for Jamie and Jimmy's FOOD FIGHT CLUB on Channel 4 – I advised the producers on the episode about beer